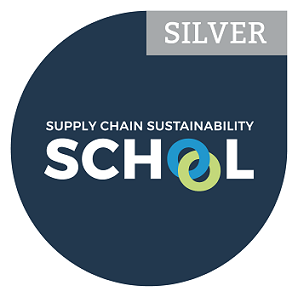 Supply Chain Sustainability School – Silver Award
29 April 2020
Road Traffic Solutions Ltd have reached Silver level accreditation with the Supply Chain Sustainability School.
An award winning industry wide collaboration, the School is led by Partners and Members whose vision for is to be "A world class collaboration to enable a sustainable built environment". Members since 2019, Road Traffic Solutions Ltd are working with other members in Construction, FM, Homes and Infrastructure sectors who work throughout England, Scotland and Wales.
Road Traffic Solutions Ltd have embraced the available training across several core areas, including; Sustainability, Lean and Management. The opportunities offered by the School to attend training and networking events across the country allows us to demonstrate, as a supplier, our capabilities and knowledge. We have 17 of our Management Team engaged directly with Supply Chain Sustainability School, including all of our Board.
Sales & Marketing Director, Tom Pearson, said of the School: "I've personally been a member of the [Supply Chain Sustainability] School through a number of organisations I've worked for. Their resources are sound and their events are full of like minded individuals, which drives further development & growth. Our decision to dedicate a significant number of people to The School is bourne from that experience, and for a rapidly growing SME is vital to our trajectory. We will also be applying our learns to our own supply chain, meaning more ethical, more sustainable sourcing, and better relationships through shared knowledge and learning."
Road Traffic Solutions Ltd chose to use the School as a resource seeing shared values between both organisations. As an industry leader we continue to lead the way in Traffic Management. 
For all your Traffic Management needs contact us via our on-line form, or call us on 01724 848246. 24 hours a day, 7 days a week.
Categories: Accreditation, Social Value, Sustainability