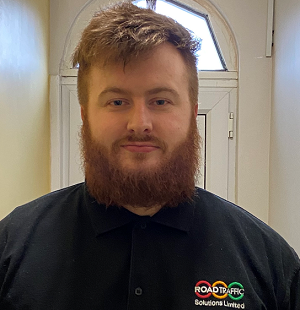 Meet The Team – Aaron Armiger
14 August 2020
People are a large part of what we do here at Road Traffic Solutions. Through 2020 we wanted to take the time to introduce some of them to you in a short Meet The Team series.
Introducing: Aaron Armiger
Nickname: Ginge
Position within Road Traffic Solutions: Technical Drawer
Length of time with Road Traffic Solutions: 3 years and 6 months
What do you do on a day-to-day basis within your job?
As head of Day To Day drawings my responsibility is to assign the workload and put the drawing requests into our REPS system before proceeding to complete my own allocation of Traffic Management plans.
What do you like about working at Road Traffic Solutions?
I enjoy the team I work with in drawings and I enjoy making the road safe.
What are the values that drive you?
I like to make sure all deadlines I set myself are completed and done in reasonable time.
What is your favourite quote?
"New Phone Who Dis?" – Me.
What is your favourite song, film or book and why?
Favourite Song is Gerry Cinnamon – "Belter" as it just puts me in a good mood.
What do you enjoy doing when you are not at work?
Enjoy gaming with my friends and before lockdown I was enjoying the gym.
Give a fact about yourself nobody else knows:
I only wear white socks.
For all your Traffic Management needs contact us, or call us on 01724 848246; 24 hours a day, 7 days a week.
Categories: Meet The Team, People, Planning