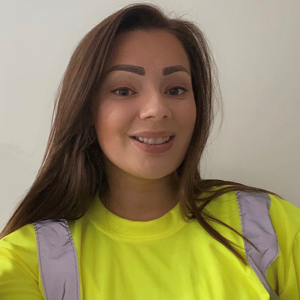 Meet The Team – Ula Dabrowska
18 September 2020
People are a large part of what we do here at Road Traffic Solutions. Through 2020 we wanted to take the time to introduce some of them to you in, what has become, a regular Meet The Team series.
Introducing: Urszula Dominika Dabrowska
Nickname: Considering I'm foreign people tend to call me all sort of name as they hardly remember how to pronounce my full name. Starting with Una, Uda, Ola or Little Polish but I think the one I like the most is Ula Lala.
Position within Road Traffic Solutions: Business Development Manager
Length of time with Road Traffic Solutions: 6 months
What do you do on a day-to-day basis within your job?
My day-to-day job is searching for new clients, attending meetings to build business relationships. Then assisting with any enquires they may have and ensuring they are satisfied with service we provide.
What do you like about working at Road Traffic Solutions?
That I can plan my own work and when I meet with customers in person. Also, I must mention our small but very friendly and supportive team! Every single person since I have started my new role have been helpful and patient with me. It made me realise that being part of a dream-team is half way to success. Friendly, positive environment makes the job easier and more pleasant. I cannot wait to start working from the office and meet everyone in person. I like the fact that Traffic Management is a completely new industry to me, which gives me an opportunity to gain knowledge and experience in a completely different sector. I like challenges and working with motivated people who are passionate about their jobs.
What are the values that drive you?
Loyalty, Optimism, Personal Growth.
How has your time at RTS been impacted by Coronavirus and the lockdown?
Since day one I have worked from home, which was fun for the first two weeks as I could sleep a little longer, and snack often through the day. However, at the same time it was very challenging to engage with the customers as many business were temporary closed due to the pandemic. Now, while all goes slowly back to old/normal working routine it gets busier, and I am finally allowed to meet our clients face to face (with social distancing in place of course).
What is your favourite quote?
"Freedom consists not in doing what we like, but in having the right to do what we ought" by John Paul II and "The most beautiful things in the world cannot be seen or touched, they are felt with the heart" by The Little Prince.
What is your favourite song, film or book and why?
I have way too many favourites but a few movies moved me are: Forest Gump, Seven Pounds, BraveHeart, The Pianist and The Green Mile.
What do you enjoy doing when you are not at work?
I enjoy a good hike together with my partner and our dogs. Stopping for a pint of beer at local pub is a must! I love exploring and visiting English Heritage. Also, I do horse riding very often and currently I spend evenings baking a lot of cakes. Not all edible, but I am improving.
Give a fact about yourself nobody else knows:
When I was a teenager I used to drink a fizzy wine with my school mates in bushes at night time. To mask the smell of alcohol I once ate a Red Berries Body Lotion, which made me so sick I vomited on my bedsheets. Till this day my mum thinks it was a stain of beetroot soup she cooked earlier for a dinner.
For all your Traffic Management needs contact us, or call us on 01724 848246; 24 hours a day, 7 days a week.
Categories: Meet The Team, People, Sales