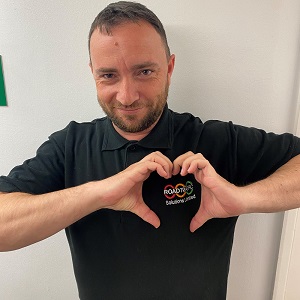 Meet The Team – Allan Cook
23 October 2020
People are a large part of what we do here at Road Traffic Solutions. Through 2020 we wanted to take the time to introduce some of them to you in, what has become, a regular Meet The Team series.
Introducing: Al Cook
Nickname: Cookie (original!)
Position within Road Traffic Solutions: Operations Team Member
Length of time with Road Traffic Solutions: 4 years & 6 months
What do you do on a day-to-day basis within your job?
Book in reactive and emergency fault jobs for our customers, liaise with our drivers/operations team to make sure all jobs are attended punctually and with our usual top quality service, and assist with any queries any member of RTS may have.
What do you like about working at Road Traffic Solutions?
The camaraderie and relationship I have with all of our team members, the satisfaction of doing a good job. I also enjoy taking part on the events and throwing cones!
What are the values that drive you?
Honesty, integrity, hard work and definitely loyalty.
What is your favourite quote?
"We make a living by what we get, but we make a life by what we give" Winston Churchill
"The difference between dreams and reality, is desire" – someone at some point in time…
What is your favourite song, film or book and why?
Far too many to mention on each, Lee Child books, Marvel films, and pretty much any music!
What do you enjoy doing when you are not at work?
Spending time with my daughters, time at the beach, used to go to the gym, but I replaced the gym with food…
Give a fact about yourself nobody else knows:
I used to have an irrational fear of water, from falling in to the sea as a child.
For all your Traffic Management needs contact us, or call us on 01724 848246; 24 hours a day, 7 days a week.
Categories: Meet The Team, Operations, Reactive