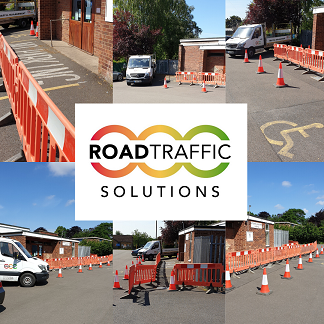 Helping Yaddlethorpe Nursery with Social Distancing
27 May 2020
June 1st sees the return of some school-aged and pre-school children to schools and nurseries across the UK. With lockdown not yet lifted in its entirety, and even if it were, maintaining social distancing remains the challenge, especially in younger age groups.

Road Traffic Solutions took a call from Vicky at Yaddlethorpe Nursery with exactly this dilemma. How do we encourage and adhere to social distancing upon entering the building, with a clear emphasis on the safety and welfare of the children, families and staff. Depot Supervisor Dave Lawrence attended site this morning, developing a system of cones and barriers to support the nursery in their aim. It's safe to say that Yaddlethorpe Nursery are delighted with the loan of cones and barriers we have arranged. Just goes to show no job is too small for us to care, we have a continued commitment to local community.
Looking to do the same with your workplace? For all your Traffic Management needs contact us via our on-line form, or call us on 01724 848246. 24 hours a day, 7 days a week.
Categories: Community, Operations, Social Value