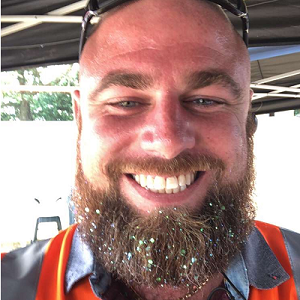 Meet The Team – Lee Wilkinson
10 July 2020
People are a large part of what we do here at Road Traffic Solutions. Through 2020 we wanted to take the time to introduce some of them to you in a short Meet The Team series.
Introducing: Lee Andrew Wilkinson
Nickname: Wilko
Position within Road Traffic Solutions: Event Planner, Lantra & SQA Approved Instructor/Assessor & currently assisting on major projects
Length of time with Road Traffic Solutions: 10 years!
What do you do on a day-to-day basis within your job?
My days vary hugely! As an event planner, I am responsible for designing & implementing bespoke traffic management systems for some of the UK's largest events which range from 100 miles of road closures to festival sites and car parking with some crowd planning. As an instructor/assessor I deliver classroom-based training courses and on site assessments to assist learners in gaining qualifications in the industry. Being so heavily involved in training and the knowledge required to do that, I work closely with the compliance department and all other areas of the business to help with compliance and internal training too.
What do you like about working at Road Traffic Solutions?
The people I work with and the people I have met over the years and also overcoming the challenges that some projects like to throw into the mix! Having started with the company as an operative with 2-3 years' experience, I embraced the company motto of "What you put in is what you get out". I gained all of my qualifications as an operative up to Foreman level in all sectors, gained my training and assessing qualifications and the company has always helped me to progress!
What are the values that drive you?
Honesty, integrity and commitment.
How has your time at RTS been impacted by Coronavirus and the lockdown?
As the events industry has effectively been shut down for the foreseeable future, I have turned my hand to other areas of the business to provide additional knowledge, experience and training to the wider team and assisting with the tendering and planning of major projects.
What is your favourite quote?
"He's not the Messiah, he's a very naughty boy!" – Terry Jones of Monty Python.
What is your favourite song, film or book and why?
"Strobe" by Deadmau5, although its 10 minutes long it's like a journey!
What do you enjoy doing when you are not at work?
I enjoy cooking (and eating!), spending quality time with my family and fishing.
Give a fact about yourself nobody else knows:
I can cook 2 minute rice in 1 minute 55 seconds.
For all your Traffic Management needs contact us, or call us on 01724 848246; 24 hours a day, 7 days a week.
Categories: Events, Meet The Team, Operations, People, Planning, Sales, Training