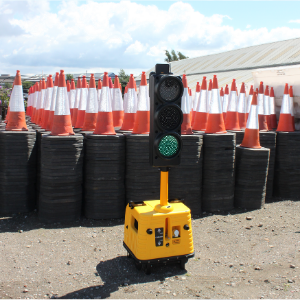 Green Light on Investment
13 July 2020
Over the past week Road Traffic Solutions have taken receipt of 38 sets of AutoGreen Hollco portable traffic signals. With innovation being a driving force keeping us at the forefront of the Traffic Management market, we are particular delighted to add this option to our fleet.
So what is AutoGreen?
AutoGreen is an advanced form of radar based Vehicle Actuation (VA) for Hollco portable traffic signals.
For a standard 2-phase system on a 50m length of roadworks AutoGreen can improve traffic flow in cars per hour by up to 24% compared to traditional VA based systems based on 'Pink Book' recommendations. This can reduce driver frustration and remove the need for Manual Control on those sites where traffic density is suitable for AutoGreen control.
Some of the functional differences to be seen by the user of a system running AutoGreen:
Complete weather invariability and no false alarms owing to driving rain.
Correct operation under or near high tension power lines.
Closing of a Green phase faster after the last vehicle has passed.
Closing of a Green phase much faster if only a few cars have made a phase call.
When a queue begins to lengthen on one end the max Green time will be extended to help clear the queue.
The max Green time will continue to be increased (up to a pre-set max) should the queue not be readily cleared.
The Green phases will dynamically adjust allowing for 'tidal flow' conditions at different parts of the day.
Near elimination of Green extension 'gap out' inefficiencies.
AutoGreen lights are available for immediate hire, right across the country. Contact us or call on 01724 848246; 24 hours a day, 7 days a week.
Categories: Industry News, Innovation, Social Value