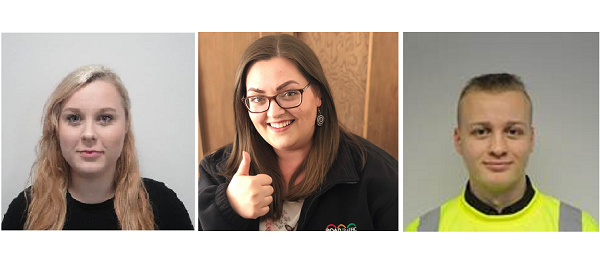 September: Employee of the Month
11 October 2020
Each month we ask Road Traffic Solutions colleagues to nominate each other for going above and beyond in their duty to our customers, or to each other.
September was a great month here at RTS, and without a shadow of a doubt everyone worked hard to keep delivering our quality service. As you can imagine, this has led to a really tight competition for Employee of the Month, and resulted in more winners than usual! From the Office our winners are Natasha Morgan & Elizabeth Clarvis, alongside Operative Alex Colclough.
Natasha: was nominated for all of her effort and excellent communications skills when it comes down to booking in numerous projects. Natasha is always professional in her approach and always willing to go above and beyond for the customer. She has taken on a new role and done it effortlessly, and she has managed another member of staff's work brilliantly whilst she was on annual leave. She always puts the extra effort into her work by staying after her working hours to make sure everything is done and booked correctly.
Liz: wears many hats in the organisation and is never one to shy from helping. This month in particular she has supported the business around updating certificates and audits, managed the department through the annual leave of the Compliance Manager, delivered inductions for new starters, as well as working on a number of other projects across RTS. Liz is always on hand to help answer questions or show people where the relevant information is. Liz's presence on projects, the innovation committee, booking in my training and presenting the Pulse Meeting information hasn't gone unnoticed. Thanks Lizzie for all you do! 
Alex: is happy to help out with extra shifts, works really hard and always offers to help out and support Reactive with the work load. Always happy and polite on the phone and a joy to work with.
Categories: Accreditation, Employee of the Month, People, Planning, TMO, Training