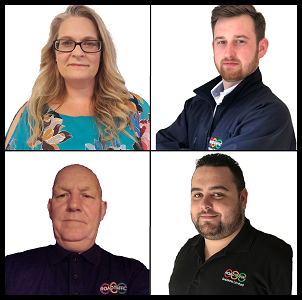 'Fantastic Four' For Road Traffic Solutions
7 July 2020
Road Traffic Solutions are happy to announce the appointment of not one, not two, not three, but four new positions in the business this week! Looking to further consolidate our position as the Leading Light in Traffic Management and Site Safety, we're adding to our leadership and operational teams across the country.
New to RTS Louise Haythornthwaite joins us as Finance Manager based at Scunthorpe. Louise comes with over 20 years of financial experience, having spent the majority of that time with British Steel. A qualified Management accountant, Louise has managed teams of all sizes and comes with a proven track record of implementing change, hitting deadlines and driving results to enable a company to grow and invest.
Advocates of promoting from within, we have also made a trio of promotions, strengthening the team throughout the UK.
Dan Martin joins the Leadership Team as Events Manager. As one of the longest serving members of the RTS team, Dan has carried out a broad range of roles within the company. He's an ambitious and dedicated member of the team, with a wealth of experience within the events industry. Dan has managed some of the largest and most prestigious events in the UK.
Bolstering our Operations across the country, Pat Knight & Harry McNeil have been appointed as Contracts Managers North & South respectively. Pat has been with RTS for just over 10 years, spreading his experience across our job managers, operatives and supervisors, nationally. A valued and values driven member of Road Traffic Solutions, stepping into the North role will allow for continued growth with our customers. Harry has accelerated through the ranks in the business. Joining in 2016 as a trainee, and most recently responsible for running Mildenhall and Birmingham depots across the Midlands. With experience in sales prior to joining Road Traffic Solutions, Harry brings a well rounded commercial knowledge to the South, further supporting our growing teams in and around London.
Please join us in congratulating all four members of staff in their new positions. Road Traffic Solutions continue to invest in its people as a core value, and hold a continued commitment to providing best in class service, at a competitive and fair price to you.
For all your Traffic Management needs contact us, or call us on 01724 848246 24 hours a day, 7 days a week.
Categories: Accounts, Events, Industry News, Meet The Team, Operations, People